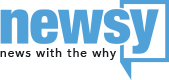 kshb.com
National News Partner
Dozens Dead After Passenger Plane Crashes In Nepal
A passenger plane carrying 71 people crashed Monday while landing at the Kathmandu airport in Nepal.
Officials and witnesses say the plane caught fire after veering off the runway. Nepali police told The Associated Press at least 38 people were killed and 23 others were hurt.
It's unclear exactly what caused the crash. According to local media, all flights in and out of the airport have been canceled.
---
Trending stories at Newsy.com