LENEXA, Kan. — The mother of Mikey Williamson, one of the victims in a high-profile double murder-suicide in February 2022 in Lenexa, is sharing her son's story with KSHB 41.
She's never spoken publicly about the incident until now.
"There's not a day that goes by that I don't relive that in some way, but also I do a lot of things to heal," said Melanie Williamson, Mikey's mother.
Police said an ex-boyfriend of Mikey's friend, Sara Beck, tracked her with a GPS device. The KSHB 41 I-Team previously spoke with Sara's father, Desmond Theel, about the case.
"As a father, it's kind of hard not to look inward, look at myself, and ask myself, 'What did I do wrong?'" Theel said.
Since the double murder-suicide, state lawmakers in Kansas have taken action to strengthen stalking laws, with Gov. Laura Kelly signing a bill into law in late April.
The change comes after a series of reports from the I-Team about the case.
"With all of the technology now, it's a stalker's dream to be able to pinpoint the location of their intended victims, so I'm very glad we got this done," Kelly said.
REMEMBERING MIKEY
Melanie Williamson cherishes the tokens left for her son at his gravesite. It brings her joy when she visits him with family friends.
"It's just important to know that they're remembered and to see how loved they are or he is," she said.
In February 2022, Mikey and his friend Sara were victims of a double murder-suicide. They worked together and knew each other for only a few weeks.
Melanie said they both enjoyed outdoor activities — Mikey loved fishing and Sara rode horses.
"She seemed like a really nice girl. I would've liked to gotten to know her," she said.
WHAT HAPPENED THAT NIGHT
Lenexa police said Sara's ex-boyfriend tracked her with a GPS device to Melanie's house, where Mikey lived.
Police said the ex-boyfriend shot Sara and Mikey before taking his own life.
"I mean it was horrifying," Melanie said. "I mean we woke up to gunshots, and then he was in the room right next to us."
That night, Melanie said Mikey was out with his friends. When he got home, Mikey shut his parents' bedroom door to let them know they could go to sleep.
Melanie later made the horrifying discovery.
"I immediately went into shock, and I think I stayed there for a good three to four months, truthfully," she said.
FINDING JOY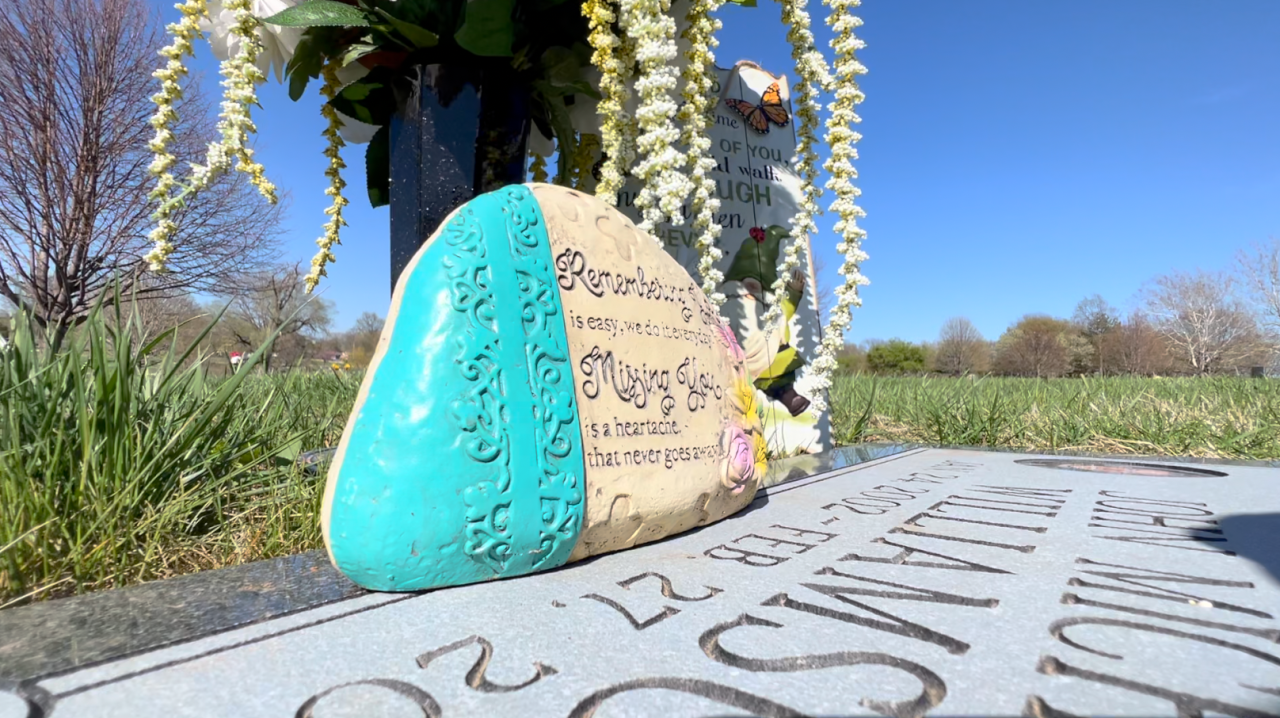 Time has helped Melanie heal. Still, she says she will never forget her son who was only 20 years old.
"He had a lot more to do," she said. "It's just horrible that it happened this way, but I have to be grateful for the good things."
Melanie has fond memories of Mikey fishing at a nearby pond with his friends. Those memories are why the family chose a particular spot in the cemetery and etched a fisherman next to his name.
"There's a lot of joy that lives alongside the grief, and you have to fight for that but it's there," she said.
Melanie's focus is now all about finding joy, looking for glimpses in pictures she took of her son.
"He was so full of life and happiness," she said.
CHANGE IN KANSAS LAW
In late April, Gov. Laura Kelly signed a bill into law that will strengthen stalking laws in Kansas.
"I just think that everything we can do to keep people safe, we should be doing," Melanie said.
The bill makes clear tracking devices or tracking device data will be part of the stalking criteria. It also helps protect those who have restraining orders or protection orders by clarifying the law about tracking devices.
Kansas now joins more than 20 other states with laws on the books about the devices.
"I hope it's enough," Melanie said.
In Missouri, a similar bill was filed in the legislature. It would ban someone from putting a tracking device on someone's car without the owner's consent.
It did not make it through the legislature this session.
—