The Independence Fire Department is celebrating a major milestone this year - its 175th Anniversary. The department began operating on Feb. 6, 1843. Here's a look back at how things used to be.
In 1918 the Fire Department replaced the White Hose Wagons with American LeFrance triple combination pumpers. These trucks could pump 750 gallons of water per minute and were also equipped with 80 gallon booster tanks. The truck in this image is one of two 1928 pumpers which were not replaced until 1949. This picture was taken in front of Firehouse No. 2 at Elm and Lexington. The Firemen from left to right are: Martin Carey, Tom Pollard (who later became Chief), Bill Paine and Kenneth Simmons.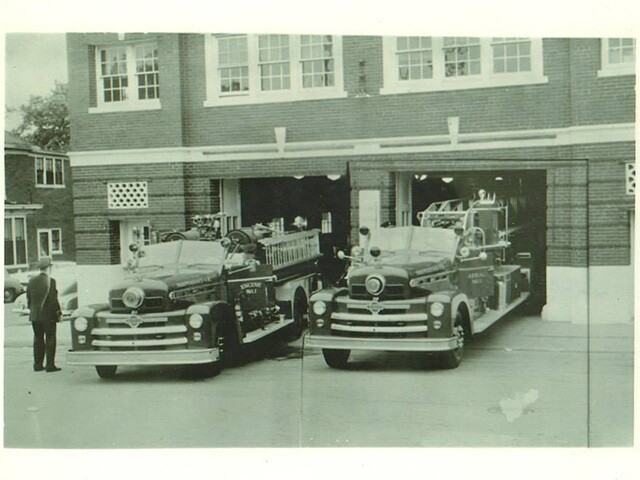 The new 1952 Seagrave pumper and aerial ladder truck sitting on the drive of headquarters.
This photo was likely taken in 1910. It shows the No. 2 Hose Company in No. 2 Firehouse at Elm and Lexington.
This photo of the Independence Fire Department Headquarters was taken in approximately 1909 or 1910 based on the presence of Chief Charles E. Staub in the dark uniform posed in the doorway of the Light Department on the right. The old white wood frame firehouse stood on the southeast corner of Main and Van Horn Road (now Truman Road).
This photo is of the early paid Independence Fire Department. The horses are the first IFD team of Dan (left) and Joe (right). The fireman on the hosewagon seat is Lewis Warren. To his left is Ellis Wright, who worked for the Examiner newspaper. D.A. Kincade, who later became Chief and served the department for fifty years, is holding Dan's reins. Chief John Nesbitt is holding Joe. The firemen to the Chief's left are William Goodman, Charles Highfel and Chief Nesbitt's little brother. This photo was taken between Nov. 16, 1897 and Oct. 1, 1902.
This is one of the earliest fire houses in the city.