LANSING, Kan. — After 15 years, a sergeant at the Lansing Correctional Facility is calling it quits, saying the lack of personal protection equipment for employees and inmates was the final straw.
"When the pandemic started, they ignored it," David Carter said Thursday.
Carter worked as a correctional officer at the facility. The Kansas Department of Corrections told 41 Action News that Carter was hired in February 2005.
On Wednesday, Carter submitted his resignation letter, effective immediately. In the letter, Carter wrote about the recent atmosphere that he says puts staff members in danger.
"Trying our best to do what we can with what little we have; do more with less is kind of the state motto at this point," Carter said.
Carter said the facility's response to the pandemic was slow and ineffective.
"Let's put 200 guys onto the max yard, let's let them intermingle," Carter said. "They just pretended nothing would happen and hoped it would go away, I suppose."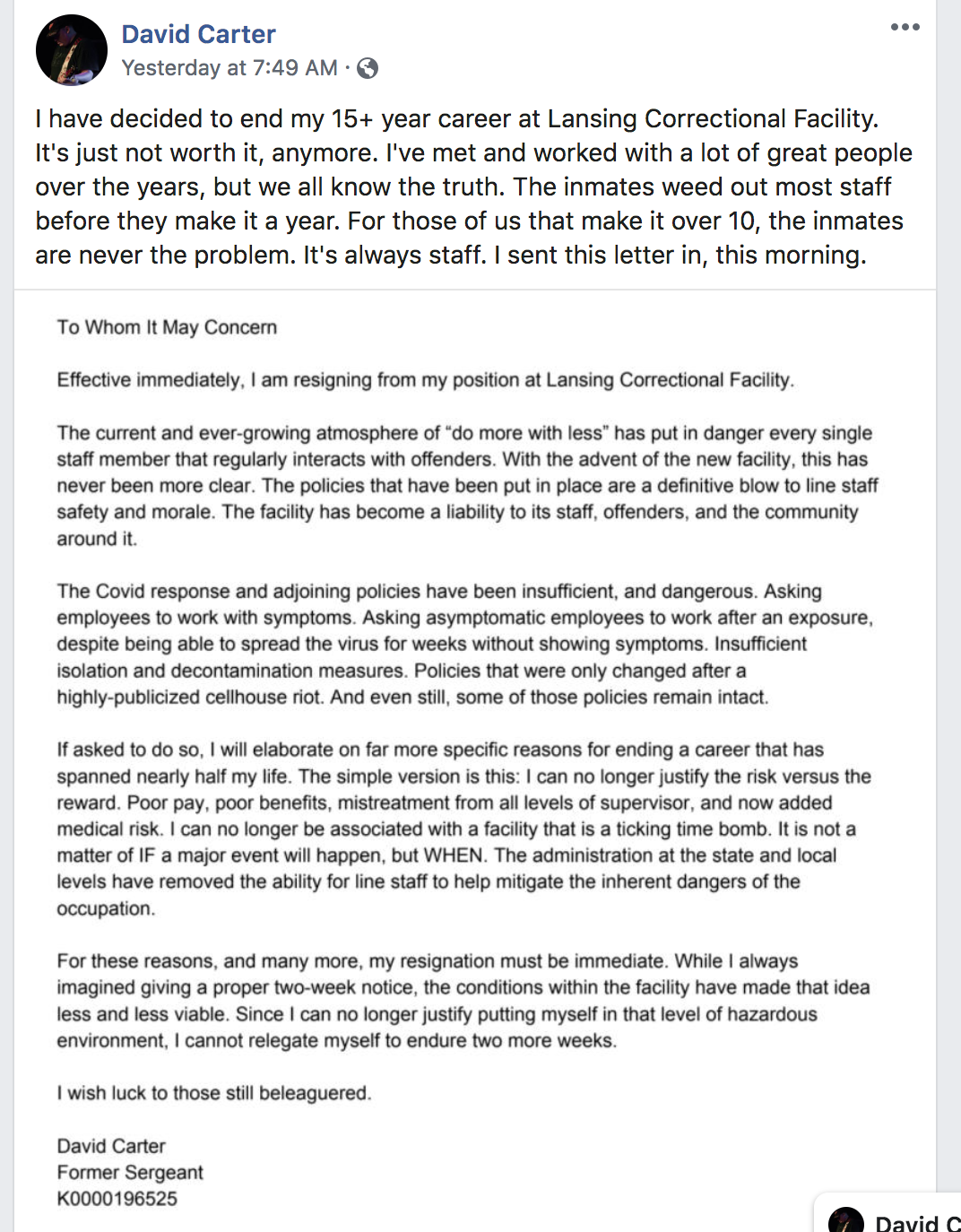 In his 15 years, Carter told 41 Action News he was always encouraged to wear gloves. However, at the start of the COVID-19 pandemic, he said protective equipment was distributed but quickly ran out.
"We were given cloth masks handmade by inmates and sewing machines," Carter said.
Carter also said the recent riot at the facility started due to the lack of PPE for inmates.
"C2 has five guys in a cell, living on top of each other. In a four-man cell they have five guys, so social distancing is impossible, and the next best thing is to protect yourself and they can't do that either," Carter said. "Frustration starts to bubble over a little bit."
Since the beginning of the pandemic, 70 staff members and 70 inmates have tested positive for coronavirus. Earlier this week, 240 inmates were tested, with 75% found to be positive and asymptomatic.
On Thursday, the Kansas Department of Corrections announced all inmates would be tested for the virus.
"If that were the only problem and it's a temporary issue, you can ride it out maybe and hope for the best, but when that's not the only issue, you stop wanting to ride it out," Carter said.
Department of Corrections officials told 41 Action News they had no comment on Carter's resignation.