KANSAS CITY, Mo. — Summer concert season is here, and venues around Kansas City are opening doors without the restrictions of years past.
But, there's competition when it comes to the concerts people around the metro can see in the area.
KSHB 41 first started this discussion in our newsroom.
How does a band go from a CD to center stage? What does it take to land a big concert? And what about the perception of some music fans that Kansas City is getting skipped by some artists?
Feelings of being passed over were specifically brought up when rap artist Macklemore announced his tour with an image of him wearing what appears to be a KC Royals jacket. However, his tour includes no Kansas City dates.
So, we're taking the topic 360, hearing from:

People attending concerts
Concert venue executive
KC artist
Venue owner
Concertgoers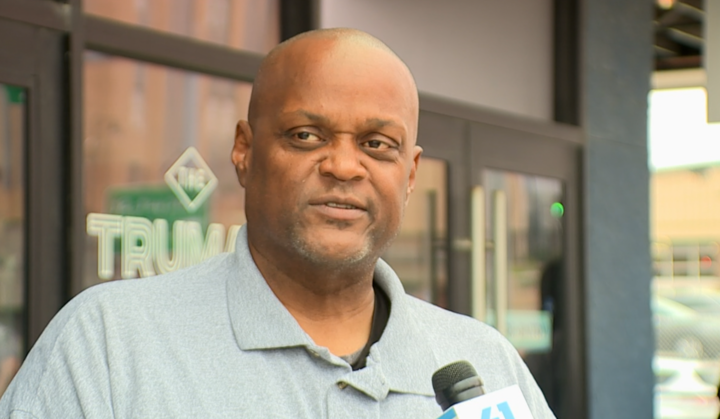 "Live music is the best thing ever," said Jamie Faudere, who spoke with us shortly before a recent Thomas Rhett concert.
Just like Faudere, other live-music fans are a dedicated bunch.
"Yes, I do see a whole lot of concerts all the time," Taylor Wallace said outside the T-Mobile Center, a concert venue in downtown Kansas City, Missouri. "Almost every week — all different types, all different kinds."
Summer 2023 concerts have little to no pandemic-related restrictions compared to years past, which some fans say they have anxiously awaited.
"I'm very excited," Matt Graves said before attending a Thomas Rhett, country artist, concert. "Finally get to do all of these plans that I've had building up over the last few years."
At the risk of sounding like a broken record, many fans share a common concern of wanting more tour dates. Graves feels as though musicians have made it a "habit or tradition" of choosing St. Louis over KC.
"One of my favorite artists is having a tour, and he is going to St. Louis and not coming to Kansas City," said Lauren Mack, frequent concert-goer. "I think it's rude because we are a lot cooler, obviously."
But while the idea of playing second fiddle to neighboring cities hits a sour note, some fans changed their tune thanks to a full slate of shows ahead.
"Yeah, still a lot to look forward to," Graves said. "There's a lot of things going on. A lot of people are coming."
Concert expert
Kansas City's concert scene hasn't fallen flat by any means.
Beyoncé and Taylor Swift will grace GEHA Field at Arrowhead Stadium later this year.
When an artist does skip over the City of Fountains and the surrounding metro, sometimes it has more to do with logistics than love of the city.
Bill Waugh, vice president of concerts for Starlight, says most artists aren't selling out stadiums, which is where he comes in.
"At the size of venue we are at, it's really relationship-driven," Waugh said.
A few options exist for artists when booking a tour. An artist's booking agent could work to schedule a venue to play in each city they decide to stop.
Another option is a company, like AEG or LiveNation, can buy up part of an artist's tour. Those companies own or have partnerships with venues across the country. If there's a company-owned venue, that's where the artist is playing for those stops, unless there's a scheduling conflict.
The last option is slightly different. A company could buy up an entire tour, and the same thing happens. If there's a company-owned venue, that's where the artist plays.
When looking at Kansas City's venues, it's ranked 30th for live music based on "concert market ratings," according to Pollstar, a concert industry data collector.
"Kansas City is kind of a midsize town," Waugh said. "There are a lot of great things about that. And it has a vibe that's maybe a little different than a Seattle or a Miami. Certain artists are going to be a better match for that. The artists that are playing stadium shows, maybe they can sell out every city."
Cities like Omaha, Nebraska, and St. Louis, Missouri, are right behind KC in the rankings.
Waugh says the competition makes sense from an artist's perspective.
"Some bands, they really focus on the Midwest," he said. "And we know they are going to play here every time they are coming through. Some are the opposite. Some it's just a way to get from one side of the country to another."
KC-area music artist
Musician Jeff Shafer is inspired by his city, Kansas City, and its roots in jazz. On stage, he's known as "Flare Tha Rebel."
Having been on tours of his own, Shafer says the secret to success is playing in areas where you have a following.
"People are still overlooking what we have here in this market," Shafer said.
And Shafer says Kansas City has plenty of fans to pick from.
"But when you understand we're doing the NFL Draft, we're doing the World Cup, that we have this vibrant festival called Boulevardia, you'll see that it's not just those events but it's the scene," Shafer said.
He says it's a matter of just getting bands in the door.
"Once they show up and do their thing here, they are going to be coming back because they will understand that we have a successful market here and fans that will come out to shows," Shafer said.
Venue owner
Located in the Crossroads Arts District in downtown KCMO, the owner of Grinders, who goes by Stretch, says Kansas City is a must-play for many of the artists he works with.
"It's really a crossroads between all destinations," he said. "So people want to come to Kansas City, and have to come through Kansas City, so we've always got a lot of great national acts as well."
In more than a decade, Stretch has seen Grinders' backyard-style concert audience grow. But a big production, even at the largest of venues, doesn't mean there's a big payout.
"Everyone always thinks there's huge money behind this stuff. It takes huge money to do it with little profit," he explained. "Go out and support live and local, man. That's what keeps everybody going."
—
As part of KSHB 41 News' commitment to providing context and depth in our reporting, we're excited to share our latest project, which we're calling 360. This project takes stories and topics that our communities are talking about and explores different perspectives on the issue. You can be a part of the process by e-mailing your ideas and thoughts to us at 360@kshb.com.